There were a couple of big announcements from Microsoft overnight at the "Connect(); // 2016" event in New York. Each of these will potentially be huge for the SQL Server engine.
more...
If you're in Adelaide, you are hopefully aware that we are hosting a special edition of the Adelaide SQL Server User Group today, with special guest Lindsey Allen, the Group Program Manager for SQL, from Seattle, who is making herself available just for us today to run through all the announcements and for Q&A. More on that at http://adelaide.sqlpass.org, but for the rest of you, read on!
SQL Server v.Next CTP1
The first of these was the announcement that CTP1 of SQL Server v.Next has ben released for public preview. The biggest item on the v.Next platform is that SQL Server will run on Linux, opening the door for many more organisations to have access to the fastest and most powerful database engine on the planet.
The Linux package for SQL Server is available for Ubuntu and Red Hat at http://packages.microsoft.com and also as a Docker Container at https://hub.docker.com/u/microsoft
Once deployed, you can manage your SQL Server on Linux instance using SSMS (using version 17.0) from your desktop as you would for your Windows versions providing a seamless experience across all your SQL Server instances. There are also native Linux versions of SQLCMD and BCP.
SQL Server 2016 SP1
The other major announcement is that starting with SQL Server 2016 SP1 (available right now!), Enterprise, Standard, Web and Express Editions will start to converge in terms of feature availability – with the selected version being used to define the Performance and Operational features.
This is probably the most exciting development with SQL Server since the launch of SQL DB in Azure, bringing the amazing innovations of the past 4 years to everyone. Features such as Columnstore Indexes and In-Memory OLTP will be available to all editions of SQL Server 2016 …. yes, even in Express Edition! This allows developers to code once for the database functionality they need and then can deploy the same code to different Editions for the performance levels required to run their Production workload. 
The different Editions will still however be restricted in terms of e.g. number of processors supported or memory limits. 
Bringing some of this functionality into Standard Edition has long been on the wish list of many ISVs who simply could not afford to force their customers to Enterprise Edition. The unexpected bonus is having the functionality exposed in Express Edition as well. The additional security now available there with Always Encrypted, Row Level Security and Dynamic Data Masking keeps SQL Server well ahead as the most secure database platform available.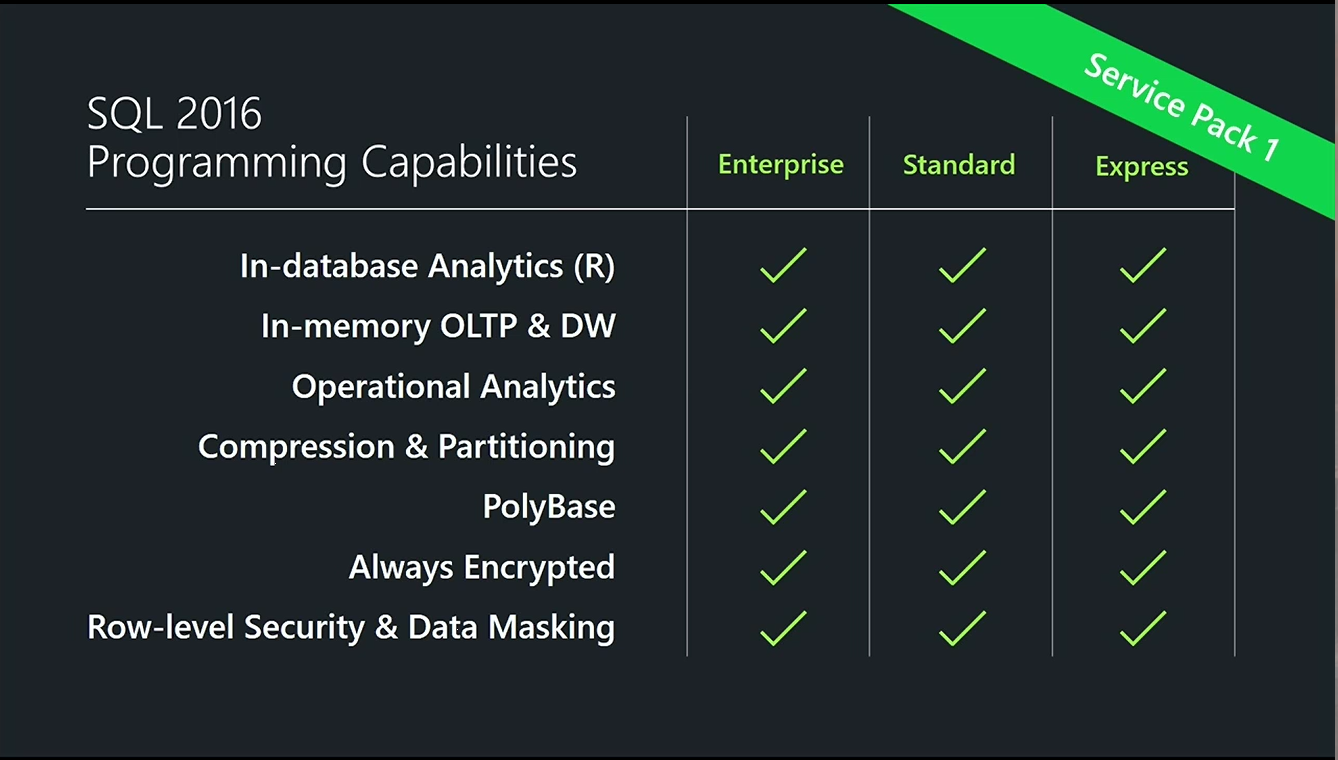 Further information can be found on the SQL Server Team Blogs at https://blogs.technet.microsoft.com/dataplatforminsider and https://blogs.msdn.microsoft.com/sqlblog
LobsterPot Solutions and SQL Server 2016
LobsterPot Solutions is a specialist SQL Server consultancy ready to assist you with your plans to upgrade or migrate to SQL Server 2016. Our specialist skills can ensure that you are taking full advantage of the new features available in Standard, Web and Express Editions and bring Enterprise grade functionality to ALL your databases.
Founded in 2008 we specialise in Data Platform and Business Intelligence including Data Warehousing and Reporting technologies. LobsterPot Solutions also has a strong focus on training with most of our consultants being Microsoft Certified Trainers who regularly present at local and international events. This combination allows us to offer advice, mentoring and customised training as part of our standard service offering. 
Email us at contact@lobsterpot.com.au for more information, and for help in realising some of these new features in your environment.
This post was originally published on November 17, 2016.