Welcome to
LobsterPot.

Improving your data story.

LobsterPot Solutions is an Australian SQL Server and Business Intelligence consultancy, offering consultancy and training services. LobsterPot Solutions specialises in the Microsoft Data Platform, including Power BI, SQL Server and Azure, from data resilience to data analytics, to Big Data and IoT, and of course performance tuning, health checks, and more. With experts in both Melbourne and Adelaide, we can help your organisation become more data-driven.

LobsterPot Solutions is a company of firsts. When the Microsoft Partner Network went live, we were the first company in Australia to become a Gold Competency Partner, the first in the world to gain the Gold Competency in Business Intelligence. Since then we have become the first to employ three Australian SQL MVPs, the first company in the whole Asian region to have an APS / PDW trainer on staff, and have been involved in training other trainers in the region.




More Services here.
News and Events
October 21, 2017
For well over ten years, Rob has been blogging, writing technical articles on a variety of topics. It's about time we brought those posts in-house, as well as providing a location for other team members to post. Rob will continue to provide articles for sqlperformance.com, but his backlog of posts, along with other new material can be found at:
http://blogs.lobsterpot.com.au
(Company news will still be posted here at www.lobsterpot.com.au)
January 3, 2017
It's been a while since we've had three Australian Data Platform MVPs within the company. We've been there before, in the time between Martin Cairney's award and Julie Koesmarno's leaving to join Microsoft. But as of today we're back at three as the amazing Manohar Punna joins the company (the other two MVPs being Rob Farley and Martin). Manohar writes about it here.
November 17, 2016
There were a couple of big announcements from Microsoft overnight at the "Connect(); // 2016" event in New York. Each of these will potentially be huge for the SQL Server engine.
more...
If you're in Adelaide, you are hopefully aware that we are hosting a special edition of the Adelaide SQL Server User Group today, with special guest Lindsey Allen, the Group Program Manager for SQL, from Seattle, who is making herself available just for us today to run through all the announcements and for Q&A. More on that at http://adelaide.sqlpass.org, but for the rest of you, read on!
SQL Server v.Next CTP1
The first of these was the announcement that CTP1 of SQL Server v.Next has ben released for public preview. The biggest item on the v.Next platform is that SQL Server will run on Linux, opening the door for many more organisations to have access to the fastest and most powerful database engine on the planet.
The Linux package for SQL Server is available for Ubuntu and Red Hat at http://packages.microsoft.com and also as a Docker Container at https://hub.docker.com/u/microsoft
Once deployed, you can manage your SQL Server on Linux instance using SSMS (using version 17.0) from your desktop as you would for your Windows versions providing a seamless experience across all your SQL Server instances. There are also native Linux versions of SQLCMD and BCP.
SQL Server 2016 SP1
The other major announcement is that starting with SQL Server 2016 SP1 (available right now!), Enterprise, Standard, Web and Express Editions will start to converge in terms of feature availability – with the selected version being used to define the Performance and Operational features.
This is probably the most exciting development with SQL Server since the launch of SQL DB in Azure, bringing the amazing innovations of the past 4 years to everyone. Features such as Columnstore Indexes and In-Memory OLTP will be available to all editions of SQL Server 2016 …. yes, even in Express Edition! This allows developers to code once for the database functionality they need and then can deploy the same code to different Editions for the performance levels required to run their Production workload. 
The different Editions will still however be restricted in terms of e.g. number of processors supported or memory limits. 
Bringing some of this functionality into Standard Edition has long been on the wish list of many ISVs who simply could not afford to force their customers to Enterprise Edition. The unexpected bonus is having the functionality exposed in Express Edition as well. The additional security now available there with Always Encrypted, Row Level Security and Dynamic Data Masking keeps SQL Server well ahead as the most secure database platform available.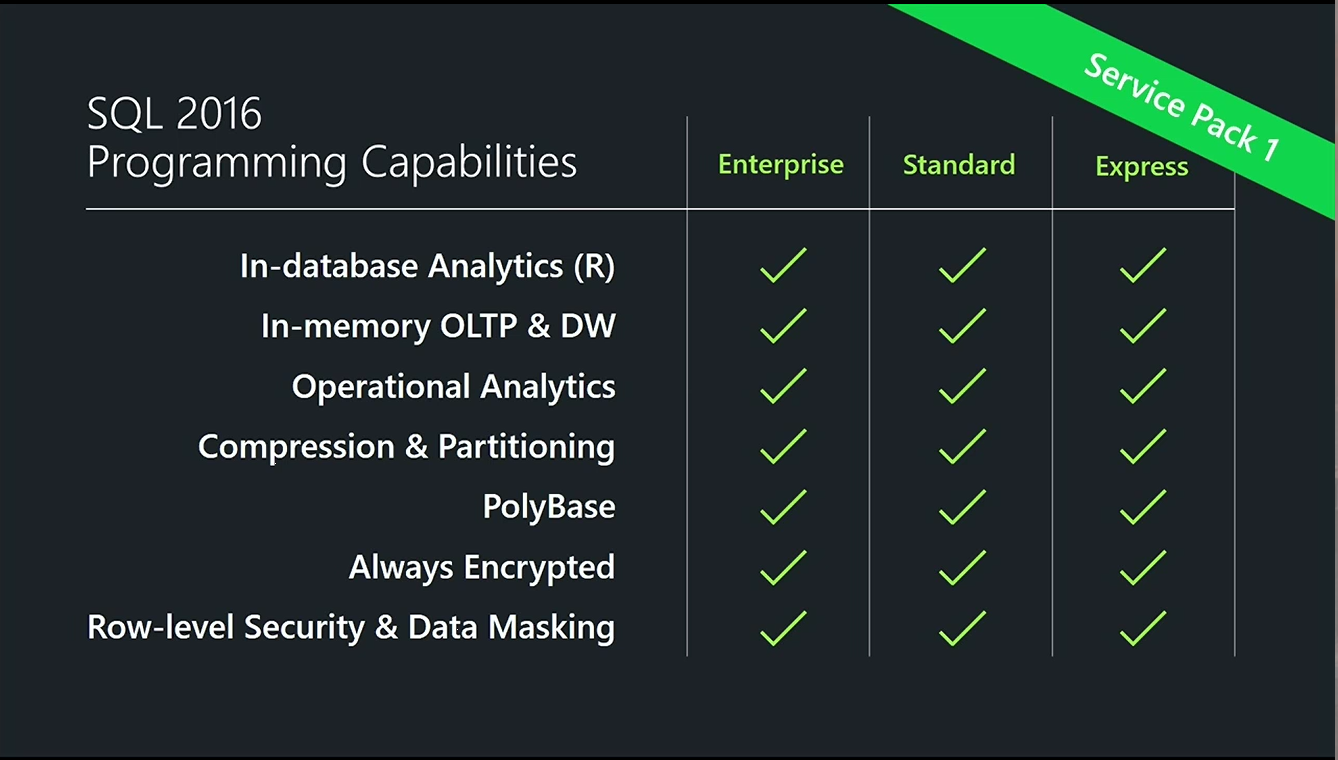 Further information can be found on the SQL Server Team Blogs at https://blogs.technet.microsoft.com/dataplatforminsider and https://blogs.msdn.microsoft.com/sqlblog
LobsterPot Solutions and SQL Server 2016
LobsterPot Solutions is a specialist SQL Server consultancy ready to assist you with your plans to upgrade or migrate to SQL Server 2016. Our specialist skills can ensure that you are taking full advantage of the new features available in Standard, Web and Express Editions and bring Enterprise grade functionality to ALL your databases.
Founded in 2008 we specialise in Data Platform and Business Intelligence including Data Warehousing and Reporting technologies. LobsterPot Solutions also has a strong focus on training with most of our consultants being Microsoft Certified Trainers who regularly present at local and international events. This combination allows us to offer advice, mentoring and customised training as part of our standard service offering. 
Email us at contact@lobsterpot.com.au for more information, and for help in realising some of these new features in your environment.
July 14, 2016
Writing this, the meeting is tonight (July 14th)!
LobsterPot Solutions are sponsoring the Churchill Club's event that's being held at The Cluster in Melbourne (which is where our offices are), and Martin has been asked to appear on the panel. It's a discussion about data – the collection of data, the analysis of data, and the significance of data – so it's the perfect topic for LobsterPot and Martin.
There's still time to register (if you're reading this on July 14th), so hopefully we'll see you there!
June 26, 2016
Every year that LobsterPot Solutions has been sending people to the PASS Summit, we've also had presenters. From 2010 when Rob Farley attended his first PASS Summit, through to this year, that's seven consecutive years of having LobsterPot Solutions' employees on the presenter list. And it hasn't just been Rob Farley who has been presenting – in fact, Rob didn't present in 2012 or 2014. But Martin Cairney and former employees Julie Koesmarno and Roger Noble have given presentations while on the team.
more...
The talk Rob's giving this year is on In-Memory Operational Analytics (follow the link to read the actual abstract at the SQLPASS site). The technologies of Hekaton, Columnstore, and R, are incredibly powerful by themselves, but when used together can provide for some business-impacting solutions. It's a beginner-level session, so it's not going to be exploring the depths of how some of the different scenarios work, but he'll cover what you need to know, and open to your eyes to the potential of these technologies.
June 26, 2016
We've had a number of customers in the education sector. Sometimes schools, sometimes universities, sometimes the Education Department within one of the state governments. Every time we work with these organisations we are thrilled to see that data is coming to the forefront of people's thinking. And it's a tremendous honour to be asked to present to Microsoft customers within the education sector as part of Microsoft's Education Tech Series. Register at http://aka.ms/edupowerbiwebinar, or read on for more.
more...
The topic of the webinar is Power BI. Rob will be presenting in Adelaide at the Microsoft offices to an audience, on the big screen at the Microsoft offices in Melbourne, and via Skype to anyone else who tunes in. LobsterPot Solutions can help improve the data story in these organisations in all kinds of ways, and we'd like to thank Microsoft for the opportunity to be part of this initiative.
September 7, 2015
As usual, LobsterPot employees will be heading to the PASS and MVP Summits in the Seattle region this year, and if you will be in the Pacific Northwest, you will have the chance to hear some of us present. Martin Cairney will be presenting at the pre-Summit SQL Saturday in Portland, and Rob Farley will be presenting at the PASS Summit in Seattle. This will Rob's tenth presentation at the annual PASS Summit, including regular sessions, spotlight sessions, lightning talks, and his 2011 pre-con.
January 12, 2015
The US side of LobsterPot Solutions is going well, and we have brought on another staff member. We're hugely excited to announce that we've hired well-known SQL expert Mickey Stuewe!
Mickey fits into the LobsterPot culture really well. Not only is she a recognised expert in SQL Server, with a history in training (she has been a Microsoft Certified Professional longer than almost anyone I know, and has been a Microsoft Certified Trainer), but she is very community-minded. She presented an advanced session on Reporting Services at the PASS Summit a couple of months ago, and is the founder of the BI and SQL Server User Group near where she lives in Orange County, California. She blogs, also presents regularly at SQL Saturday events and Red Gate's SQL in the City events, and was voted the "Best New Community Voice" in last year's Tribal Awards.
She is a leading light in the SQL Server space, and it's a tremendous honour to welcome her to LobsterPot Solutions.