"Tell us the story of how attending an IT conference or event resulted in an amazing career or life opportunity." writes Kevin Kline (@kekline).
Except that I don't know that there was one. But maybe TechEd Australia 2005, or TechEd Australia 2007 or 2008, or SQLBits 5 (in 2009), or SQLBits 7 (in 2010), or PASS Summit 2010 or 2011 or 2013, or Difinity 2017, SQL Down Under 2006, or MVP Summit 2007, or SQL Bits 2018, or TechEd Australia 99. I don't know. All of those felt significant in different ways.
The first was TechEd Australia 99 and I hardly count it. I think I still have the bag. I hope I still have the bag. I think it's in the attic above the garage with sheet music in it, because it was a satchel. But it's annoying to get in there because I have to move my car. I want to find it and have it as an option for when I'm travelling to an event. I found the picture below on eBay. I'm not going to buy it though. Like I said, I think I still have mine somewhere.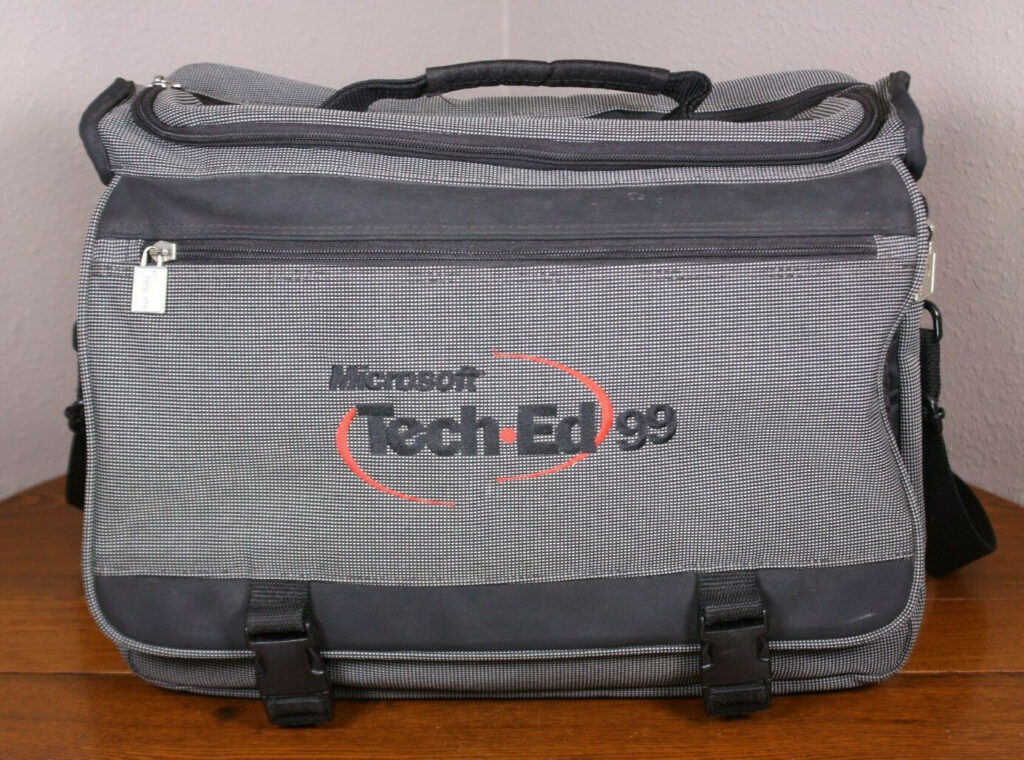 The reason why I hardly count TechEd 99 is because I didn't know there was such a thing as community. I didn't go there to network. I went to learn stuff that I couldn't learn anywhere else. The company I was working for sent two of us up to Brisbane for it, and we worked out which sessions we were going to attend, and we took copious notes, and we did the typical conference thing. I won a door prize – the game Midtown Madness. My colleague was the only person I knew at the start, and the only person I knew at the end.
I wish I had done it differently.
By the time I attended my next conference it was 2005 and I knew the community existed. I had been attending and speaking at my local .Net user group and my local SQL user group. So I knew I was going to do TechEd Australia 2005 differently to 1999. The leader of the SQL user group couldn't attend and asked me to go along to the community leader things in his place. I met lots of people. I didn't attend as many sessions. My company still wanted me to come back with new knowledge – they were footing the bill – but for me the main thing was to meet people. By the end of the event I knew most of the Developer Evangelists within Microsoft Australia, the other SQL user group leaders, and I saw that conferences were not what I had thought in 1999. It was at the next SQL user group meeting that I was asked to take over leading the group. 17 years later, I still lead that group.
One thing about TechEd 2005 was that I sat four exams in two days. That got me noticed by some people within Microsoft and I was asked to get involved in creating exams. Over the next couple of years I had a few trips to Seattle to work on exams, including a two-week block in the summer of 2006. I met some good people in those days, and most are still good friends.
At SQL Down Under 2006 I had just been awarded MVP status. I'd attended TechEd Australia 2006 and led Microsoft Learning / MCT sessions there, but SQL Down Under 2006 was probably my first large-room presentation, with a couple of hundred people there including Itzik Ben-Gan. I spoke about the OVER clause, and he later wrote some books on the topic. I'm not saying I taught him anything that day, but he hadn't written a book on it before he heard my presentation. 😉
My first MVP Summit was early 2007 and it was so much fun. I met people whose names I knew from books and articles. There were a few familiar faces there, such as most of the Australians who I knew from TechEd and the SQL Down Under event, but for the most part I was coming across people who were in a different league to me. I still remember meeting Kalen Delaney. She told me she read my blog, and I was more than a little star-struck. I also remember meeting a bunch of the UK people, like the ones who went on to create SQLBits later that year. At the MVP Summit 2008 that same crowd from the UK took me to Euan Garden's house, where we talked around the barbecue and then played and sang Rock Band. I miss Euan.
TechEd Australia 2007 was my first proper presentation at a professional conference, but 2008 was the year I felt like I left my mark. I gave a presentation about T-SQL tips, in which every tip was introduced using a slide featuring an Arsenal player. It scored really well. Someone from Microsoft told me that if I'd left out those slides I would've probably scored a whole extra point (out of 9) in my evals. I had to tell him that the scale didn't go high enough for me to get an extra point. I felt like my presentation style had come into its own. I was now presenting in a style which focused on connecting to the audience, rather than fitting the mould. A few weeks later I set up my own company, LobsterPot Solutions.
They were interesting times.
In 2009 I got a message from the SQLBits people, asking if I could fill in for a presenter who had been due to deliver a precon seminar on "What's new for developers in SQL 2008". I said yes and flew to South Wales for SQLBits 5. In 2010 I went back a year later for SQLBits 7. I did another precon and also delivered one of my favourite sessions ever, which was on Sargability. No slides. Lots of MVPs in the room (as there had been in the precon). Even though I didn't get back there for many years, SQLBits had done a lot for me and my place in the SQL world. They were my first speaking events outside Australia, and the conference will always hold a special place in my heart. My next SQLBits wasn't until 2018, and it was there that I decided to do a session with no computer at all. I wrote on pieces of paper and got audience members up to help me explain join types. I was in a weird mood because my grandmother had died a couple of days earlier. The audience enjoyed it, and I started down a new style of presentation that continued at other events as I explained index internals at SQLSaturdays around Australia and SQLDay in Poland. I talked about fragmentation and lookups, and involved the audience heavily. That has led to mentoring people in their presentation styles. I'd already helped a few people with Speaker Idol sessions, but being so different compared to the rest has meant I now have material to present about presenting, and will one day do whole-day seminars about it.
In 2010, I committed to speaking at the PASS Summit. I had two sessions accepted, and Jeremiah Peschka asked me if I could also do a five-minute Lightning Talk. It wasn't for beginners, it was a new format of light-hearted sessions. I agreed, and wrote my first comedy set. It was about collation errors, using examples of the differences between American English, UK English, and Australian English. It went down well. In 2011 I was asked to do another one. I figured I'd already done jokes, so I wrote a song. At some point late on the Wednesday I was asked to perform it during the Friday closing keynote. Buck Woody accompanied me in front of the largest crowd I'd ever had. I still haven't had a bigger room than that. In recent times I've started doing stand-up comedy around Adelaide, and have started writing songs too. I guess the foundations for that go back to those early PASS Summits.
In more recent years, I'd have to include Difinity 2017 in Auckland NZ, because I did the keynote. There were three of us, including Reza Rad (who organises the event) and Microsoft's Matt Masson. We each did about 20 minutes. Since then I've done longer keynotes at some other events, and one wasn't even a database-related conference, and I feel like Difinity was pretty significant for getting me started in that line. The last one I did was in late 2019, so that side of things took a bit of a detour as in-person conferences stopped, but I'm keen to get back into it soon.
As you can see, conferences have been very significant in my life. Even conferences outside IT have been significant for me. I met my wife organising a church youth conference, for example.
I encourage everyone to go to conferences. Don't treat them the way I treated TechEd 99. Go there to meet people. Form relationships. Create your style. Present. Let them help shape the next phase of your life.